Transcripts often reference exhibits and evidence. The ability to view that evidence as you are reading a transcript is useful in your review. Exhibits attached directly to a transcript excerpt are an easy way to refer back to those exhibits.
Add Attachment to a Transcript
1.In the Browse view, use your mouse to select the transcript text or region where you want to add an attachment.
2.Right-click the selected text and select New note. The Notes dialog displays.
3.Click on the Attachment tab.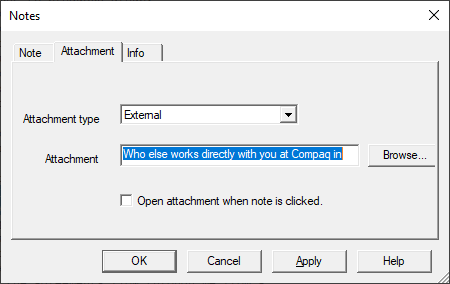 4.Select the appropriate Attachment type:
•External - to attach an external file or link to a web site
•Viewer - to attach a document image from a Concordance database
•Clipboard - to copy the highlighted text to the Microsoft Windows clipboard
•Internal - used by the system only
5.Click Browse to navigate to and select the applicable file or web site for the attachment. Click Open.
6.Select Open attachment when note is clicked if you want to automatically open the file or web site when clicking a note in Concordance.
You can save a copy of the attachment by right clicking the highlighted text and selecting Save attachment as.