Once records have been reviewed and redlines applied, you may need to edit a comment or assess the number of redactions in a group of records. You can locate redlines in Concordance Image by type or reviewer by using the Search pane. The Search pane is displayed to the left of the Viewer pane by selecting Redlines>Search.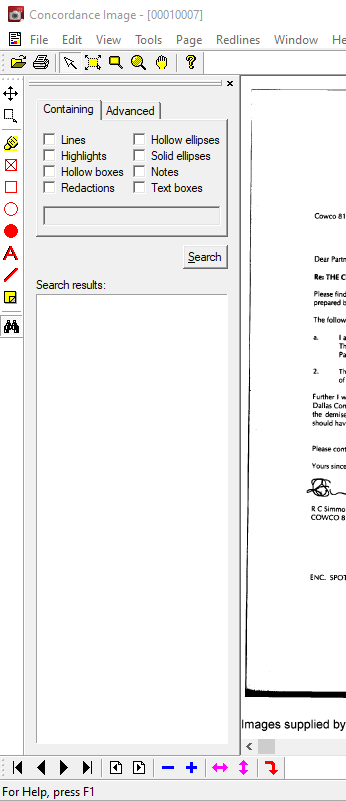 To Search for Redlines in Concordance Image
1.Select the Redlines>Search menu or click Search on the Redlines Toolbar. The Search pane displays.
2.On the Containing tab, select any specific redline types that you want included in your search. For redlines that include text, you can specify the text to find in the text box.
3.On the Advanced tab, select any reviewers that you want included in your search.
4.Click the Search button. All records containing your search criteria are displayed in the Search results. Records are listed as folders, named as the document load order number.
5.To view the document where redlines were applied, click one of the document's redlines in the Search results field.
6.When finished you can close the Search pane by clicking the X in the upper right corner of the Search pane.