Using File>Save As, you can save the current image under a different file name or format.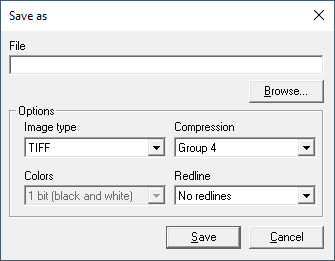 1.Type the path and file name in the File text box or click Browse to navigate to and specify the file location and name.
2.Select the Image type, Compression, Colors, and Redline options you want. See the table below for more details about which options are available based on the Image type and Compression chosen.
3.Click Save to save the file.
Image Type Options
Image Type

Compression

Colors

Redline

TIFF

None

PackBits

1 bit (black and white)

4 bit (16 colors)

8 bit (256 colors)

24 bit (16.7 million colors)

No redlines

TIFF

Group 3

Group 3 2D

Group 3 TIFF

Group 4

1 bit (black and white)

No redlines

Burn redlines onto image

PCX

PCX

1 bit (black and white)

4 bit (16 colors)

8 bit (256 colors)

No redlines

CALS

Group 4

1 bit (black and white)

No redlines

Burn redlines onto image

JPEG

JPEG

24 bit (16.7 million colors)

No redlines