The Document information pane provides quick access to additional information (metadata) about the current document or image. The information is directly linked to the information in Concordance Desktop and is stored in the Concordance Desktop Image Base (CIB) file.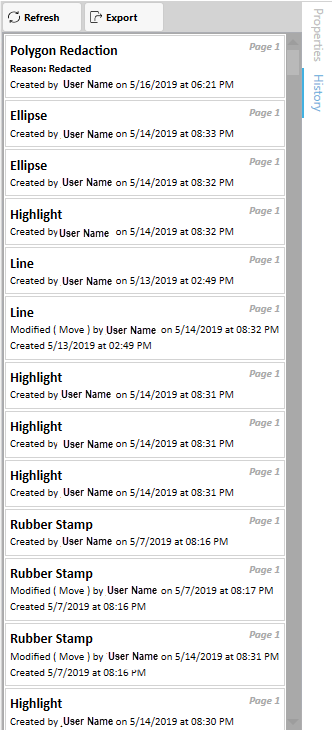 The Document information pane organizes the information into two views.
| Tab | Description |
| --- | --- |
| Properties | Displays numeric, date, text and paragraph data, up to 40 characters, from the document's corresponding Concordance Desktop fields. |
| History | Displays a complete history, in descending page order, of all markup additions, modifications, and deletions that have taken place for the current document. |
The Properties tab displays detailed information about the document.
Select the History tab to view markup history. The Refresh button updates the history showing the latest changes to the markups for the current document. The Export button exports all of the markup changes to a csv for further review or reporting.
The main view of the markup history tab displays the following information if there are markups saved.
Item

Example

Description

Markup name

Polygon Redaction

Name of the markup. In the case of redaction, the specific type of redaction is listed (area redaction, or polygon redaction).

Page

Page 1

The page containing the markup or the markup removal.

Modification

(Not displayed when creating markups.)

Modified (Move) by Reviewer One on 4/19/2019 at 04:17 PM

Modified (Reason) by Reviewer One on 4/19/2019 at 04:17 PM

Deleted by Reviewer One on 4/19/2019 at 04:17 PM

Describes the change that was made to the markup since creation. This includes the user who made the change, date of change, and the time of the change (based on the reviewer's local time).

Reason

Highly Confidential

The reason is displayed for redactions. The reason is entered at the time the redaction is placed or edited. The reason may be blank.

Created by

Created by Reviewer One

The user name of the reviewer that made the change.

Date

5/14/2019

The date of the markup change in MM/DD/YYYY format.

Time

at 08:32 PM

The time that the markup change occurred based on the reviewer's local time.
| | |
| --- | --- |
| | Markups that were converted from earlier Concordance versions will show add and deletion entries only. |