Running a query from a tag is a simple way to locate all records that have a particular tag applied to them. You can also query a tag folder to locate all tagged documents within a folder.
To Query Tags and Folders
You can query tags and folders from the Tags task pane and the Tag and Issue Management dialog box. For more information about querying tags and folders in the Tags task pane, see Creating queries from tags.
1.On the Tools menu, click Manage Tags/Issues.
i.Clicking Manage Tags/Issues opens the Add/Delete tab in the Tag and Issue Management dialog box.
2.Click the Tag Query tab.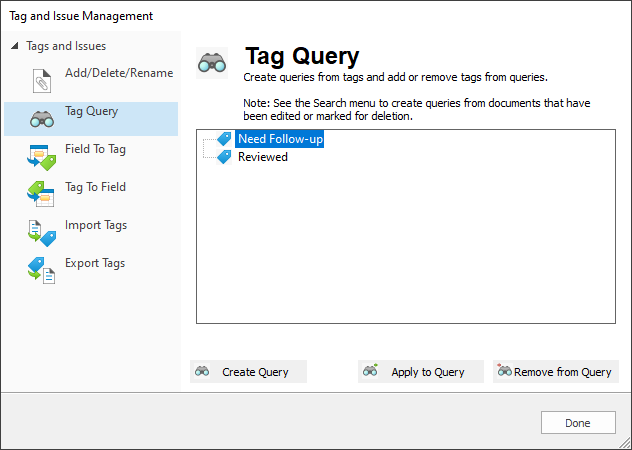 3.Click the tags and/or folders you want to create a query.
i.To select multiple tags and folders, use CTRL+click or SHIFT+click.
4.Click the Create Query button.
i.Clicking the Create Query button generates the query for the selected tags and/or folders. The number of documents found in the query is displayed in the bottom right corner of the Tag and Issue Management dialog box.
ii.Concordance Desktop stores all searches from a current session in the Review view. Your new query is listed in the query list in the Review view.