Transcripts are the easiest files to load into a Concordance database, but you must load the files into a database created from the Transcript database template. The template is hard-coded with a CPL script that enables line numbering and does the work for you. You can import plain text transcripts, depositions, and West LiveNote portable transcript and portable case format files. The maximum size for an imported transcript file is 11 MB.
Create a Transcript Database
1.On the File menu, click Template. The Create database from template dialog displays.
2.Select the Legal tab.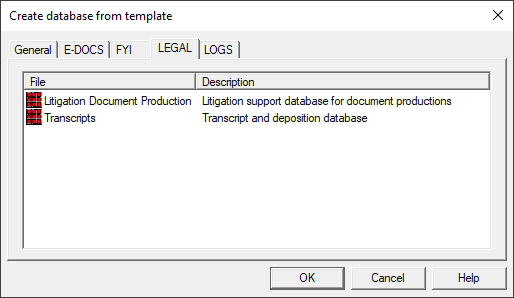 3.Click Transcripts, then OK.
4.Browse to the folder for the new transcript database, enter a File name for the database, and click Open.
5.Your newly created empty transcript database is displayed in Concordance. You now need to import the transcript documents.
Import Transcript Files
1.On the Documents menu, select Import, and click Transcripts. The Load transcripts dialog displays.
| | |
| --- | --- |
| | The Transcripts menu command is only enabled when the current database was created using the Transcripts template. |
2.Browse to and select one or more .txt and/or .ptf transcript files to import. Click Open. The Load transcripts dialog displays.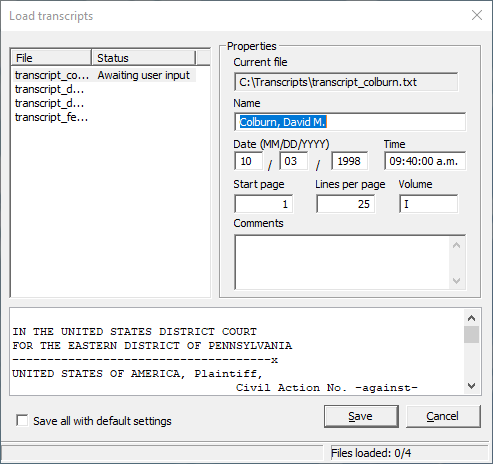 3.The dialog highlights the first file to load in the list at the upper left. The associated Properties for this file are displayed on the right. If needed, edit the displayed properties then click Save to move to the next file.
4.If you do not want to review the extracted transcript properties for each file, select Save all with default settings and click Save.
5.After each file has been saved, the Load transcripts dialog updates to display a Load button. To import additional transcript files, click Load.
6.Once all your files have been loaded, click Done.
7.In the Browse view, verify your transcript files have been imported.
8.If you have already indexed the database, reindex the database. Otherwise, run a full index.
| | |
| --- | --- |
| | Since .pcf transcript files contain multiple transcripts, you will not be prompted to edit and save individual transcripts. |