Once you have created a database, you can start importing load files to populate the database with records. Your initial database files can be PST files, electronic documents, or delimited text files prepared by a vendor (or other party) so that you can import them directly into Concordance. Concordance provides the Import Wizard to help you import your documents.
Most files are imported into Concordance using Import on the Documents menu.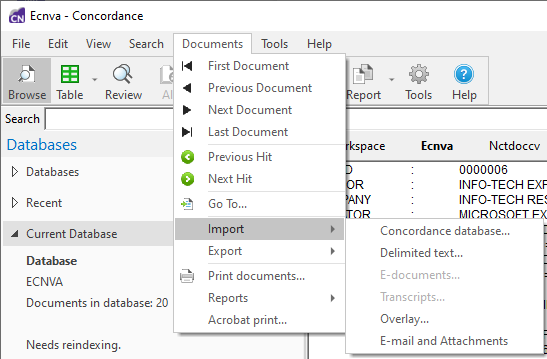 | | |
| --- | --- |
| | After importing your files, it is best practice to check for inconsistencies between the database imagekeys and entries in the Concordance Image .dir file and for duplicates and gaps in the database. |
When importing new or additional data, consider the following:
•Run a test load by importing new data into an exported database structure.
•Note the last record number on the status bar prior to importing the new data.
•Reindex the database prior to loading the new data. After the data is loaded, on the Search menu, click Search for Edited Documents, to query only the records that you just loaded for verification of the number of records that needed to be loaded or to isolate the records that need to be deleted if loaded improperly.
•Decide whether to load data into a secondary database structure and then concatenate it with the primary database.
Concordance integrates with many e-discovery products so you can import and export data to and from other prominent industry software applications.
•CloudNine™ LAW extracts text content and metadata from electronic files in native file format, and scans and exports data directly into databases.
•EnCase® by Guidance Software is an enterprise forensic data collection application used to gather data from LANs and individual, custodian hard drives, and can export collected data directly into databases.
•IPRO Image by IPRO Tech, Inc. can create Concordance Image load files.