Selecting Tools>Preferences on the Concordance Image menu brings up the Preferences dialog box. This dialog provides eight tabs of various setting options so you can configure Concordance Image based on your needs.
General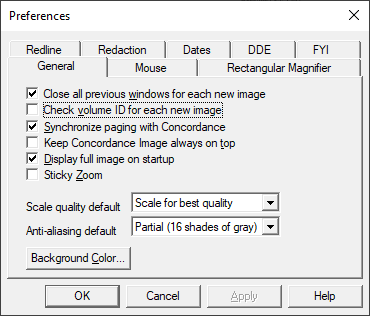 | General Setting | Additional Information |
| --- | --- |
| Close all previous windows for each new image | Selecting this preference closes all windows before displaying a new image. |
| Check volume ID for each new image | If selected, Concordance Image will check the image location against where the image was registered. If you have multiple images with the same name, selecting this option can insure the correct image is displayed. |
| Synchronize paging with Concordance | This option keeps Concordance and Concordance Image synchronized when moving between documents. |
| Keep Concordance Image always on top | Concordance Image will always show on top of all other windows. |
| Display full image on startup | Displays the full image when the image is loaded. |
| Sticky Zoom | Maintains the zoom level and position for every image. |
| Scale quality default | Can be Scale for best quality when you want to resize for quality, or Scale fastest if speed is preferred. |
| Anti-aliasing default | Used for black and white images, select No anti-aliasing, Fast (4 shades of gray), or Partial (16 shades of gray). |
| Background Color | Click Background Color to select the color to display in the background of the Viewer. |
Mouse
The Mouse preferences allow you to specify the default Concordance Image tool associated with the Left, Middle, and Right mouse buttons.
Rectangular Magnifier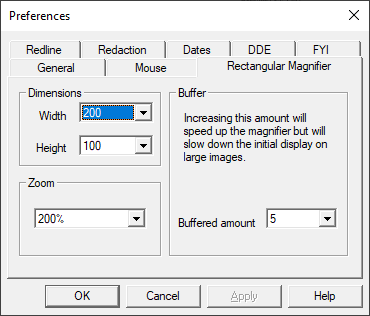 The Rectangular Magnifier preferences can be used to specify the Width and Height Dimensions for the magnifier window in pixels. You can also define the Zoom magnification percentage from the list.
Redline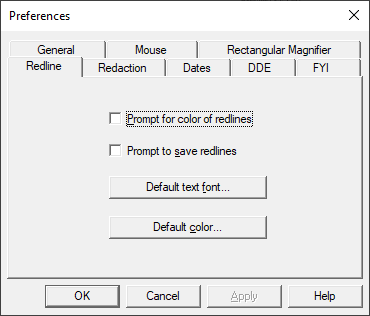 Redline preferences allow you to turn off the prompt for selecting redline color when applying a redline, and the prompt for saving the image with redlines when the image is closed. You can also define the redline Default text font and Default color.
Redaction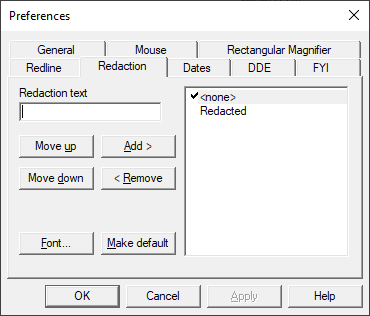 Redaction preferences are used to define the Redaction text list that you select from when applying a redaction. You can alter the list to appear in any order you want. This preference page also provides the ability to define the redaction Font to use.
Dates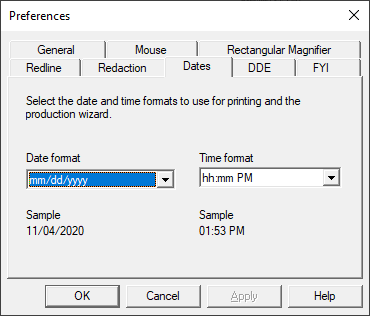 Dates preferences allows you to select your preferred Date format and Time format to use for printing and production.
DDE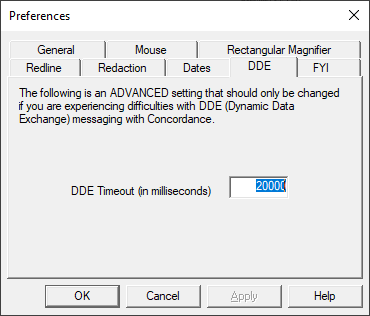 The DDE preference page is provided for backwards compatibility with early versions of Concordance. This should only be altered with guidance from CloudNine Customer Support.
FYI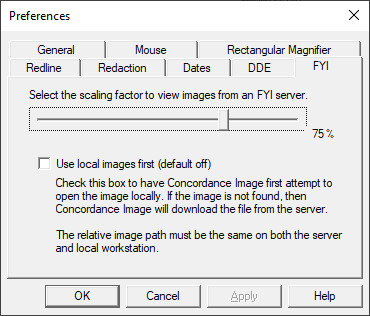 The FYI preferences define the scaling factor for transfer of images across the Internet from the server to the client PC. You can also default to Use local images first. When using print and production wizards with an FYI imagebase, Concordance Image automatically downloads a full-scale copy of the image regardless of the Use local images first setting.
| | |
| --- | --- |
| | Concordance version 10 databases and Concordance Image version 5 imagebases are compatible with FYI Server and FYI Reviewer versions 4.x or later. |