When the View Image button is activated on the Dynamic toolbar in Concordance, opening a document in Concordance automatically launches Concordance Image. If you do not want images or attachments to automatically launch during your review, you can set this up in the Concordance Image Preferences.
With Concordance Image open alongside the Concordance application, you can view a record in the Browse and Table views while viewing the same record in Concordance Image.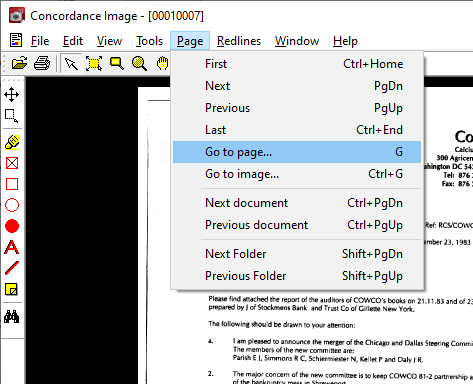 In addition to the View Toolbar, the Page menu provides several ways to navigate pages, documents, and images. When you open Concordance Image from Concordance, you are automatically brought to the current record in the Concordance Image Viewer pane. If you want to go to a specific image, you can select Go to image on the Page menu and select the image key you want.
You can also open an imagebase that is not associated with your current Concordance database by selecting Open Image on the File menu. You will be prompted to navigate to and open a Concordance Image .dir or .fyi imagebase file.
| | |
| --- | --- |
| | Concordance 10 databases and Concordance Image 5 imagebases are compatible with FYI Server and FYI Reviewer versions 4.x or later. |
Information about the current image you are viewing can be displayed by clicking Help>Image Information.