1.In Table view, click the arrow to the right of the Report button on the Standard toolbar and select Report writer. The Report Writer dialog displays.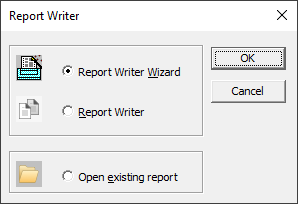 2.Select Open existing report and click OK.
3.Browse to and select a report .arp file you want to use. Click Open.
4.The report displays in the Concordance Report Writer.
5.Make any desired edits to the report.
6.Click Print Preview on the Report Writer toolbar to preview the report.
7.Click Print in the preview to send the report to a printer.
8.You can click Save or Save As on the Report Writer toolbar to update this report or save as a different report file.
9.To close Report Writer, click Exit on the Report Writer toolbar.