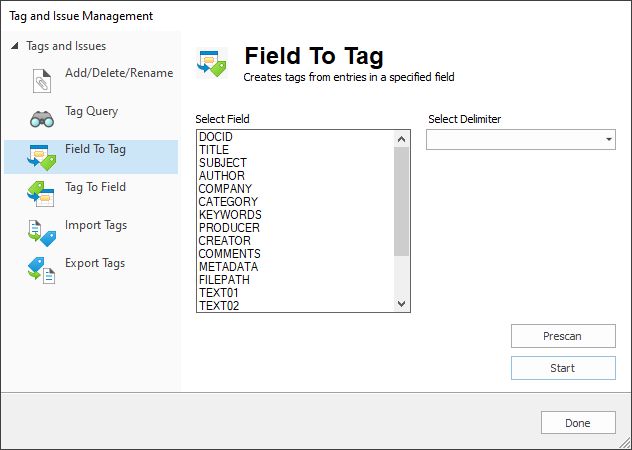 The Field To Tag feature copies the unique values from a selected field and uses those values to create tags in the Tags pane.
Creating Tags From Data Within a Specified Field
1.On the Tools menu, click Manage Tags/Issues. The Tag and Issue Management dialog displays, on the Add/Delete/Rename tab.
2.Click the Field To Tag tab.
3.In the Select Field list, select the field whose values you want to convert to tags.
| | |
| --- | --- |
| | When selecting a field to create a tag from, ensure that you select a field that is listed before your OCR numbered fields. |
4.From the Select Delimiter list, select the delimiter to use to separate the tags in the field. Choose a separator that does not appear within the selected field data.
5.Optionally you can click the Prescan button to scan the data in the specified field for unsupported characters, tag name size (limited to 199 characters), and delimiter issues. Any resulting errors are displayed in the Prescan dialog. Close the Prescan dialog after verifying any errors.
6.Click the Start button. The field values are processed and a new tag added for each field value. The Start button updates to Complete.
7.Click Done to exit the Tag and Issue Management dialog. The Tags Panel of the Navigation pane displays and shows you the newly added tags.