CloudNine LAW™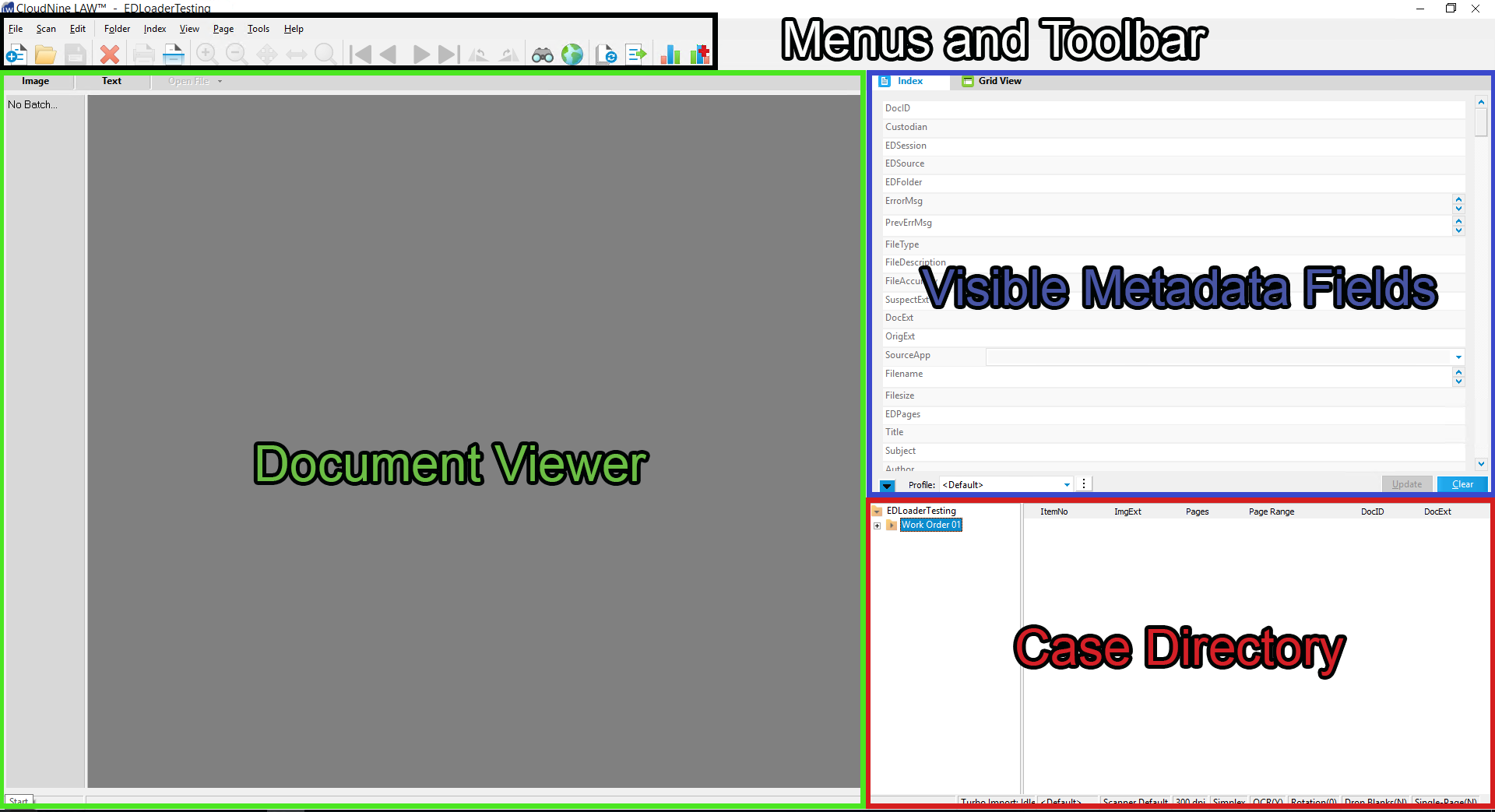 Menus
•File - Here you can create new cases, open existing cases, print or send items, import items, and perform case administration.
•Scan - Provides utilities for selecting and configuring a scanner. This menu option is not available for Turbo Import cases.
•Edit - Contains many quality control features, such as inserting items, replacing items, working with attachments, and merging, moving, splitting, or auto-numbering items. You can also view page details and properties, and delete documents, pages, and folders.
•Folder - Provides additional functionality for working with folders.
•Index - Provides tools for creating/managing fields, and for working with page IDs.
•View - Provides controls for manipulating the view of the currently selected image.
•Page - Provides page navigation, OCR flagging, and image enhancements.
•Tools - Provides tools for batch processing, exporting, deduplication, near duplication, annotations, barcodes, viewers for TIFFs and logs, OCR tools, full-text indexing, searching, and other option
* A Knowledge Based Article on this subject can be found here: How do I apply, manipulate, and save annotations? (cloudnine.com)
•Help - Provides help topics, bug reporting, and current product version/licensing information.
Toolbar

Case Directory
Displays the folder structure of the active Case File, and lists document records contained within each of those folders, along with limited metadata for each record.

Review the Case Directory topic for more information about this pane.
Document Viewer
Select records from the Case Directory to view their associated electronic documents in either image or text format (where applicable).

Review the Document Viewer topic for more information about this pane.
Visible Metadata Fields
Metadata fields from the active Case File marked as Visible are listed here. Select records from the Case Directory to populate these fields with their related data. The Embedded Grid View is also located here, but requires search results to be generated with the Database Query Builder before becoming available.

Review the Visible Metadata Fields topic for more information about this pane.

LAW Updates Available?
You may be seeing this icon in the upper right-hand corner of the main interface. LAW automatically checks for updates whenever it's launched if an internet connection is available.
This can be disabled from the Menu by selecting Tools > Options..., navigating to the Preferences tab within the Options window, and unchecking the Notify if new version available option.