In order to authorize your CloudNine Data Wrangler installation, you need a machine configured in your local environment to act as the License Server.
•Any machine operating as a License Server must have the Sentinel RMS License Manager installed, which is used to host all CloudNine software product keys.
•Licenses can be activated, refreshed, or deactivated on your License Server from within the License Manager utility, which is installed alongside CloudNine LAW.

Setting the License Server
The first time you run Data Wrangler, the Set License Server window will open: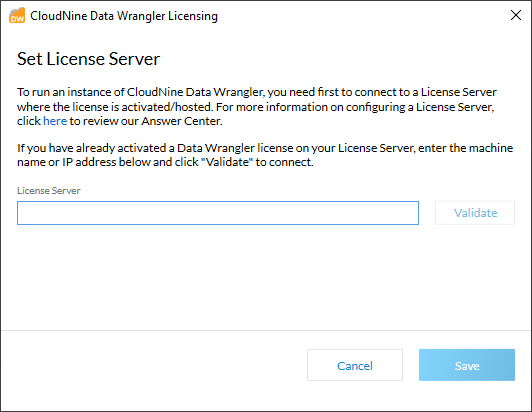 1.In the License Server box, enter the machine name or IP address of the License Server which is hosting your Data Wrangler license.
| | |
| --- | --- |
| | Enter "localhost" (without quotations) if this machine is being used as your License Server. |
2.Click Validate to verify that you have a valid Data Wrangler license activated on your License Server.
3.When you see the License Server is Valid message, click Save to apply these settings and begin using Data Wrangler.

Changing the License Server
Data Wrangler saves your License Server details and uses them each time you run the application. You can change those details by doing the following:
1.From any screen within Data Wrangler, click the Configure Licensing link at the top-right corner. The Change License Server window will appear.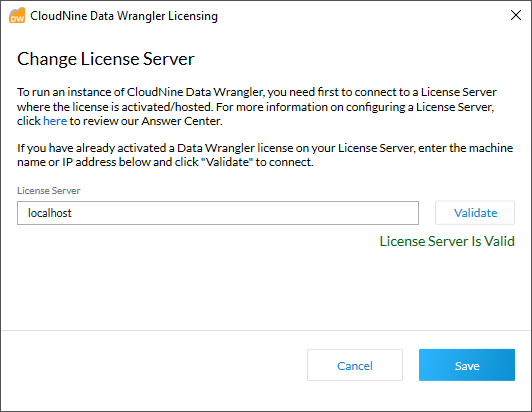 2.Edit your License Server information, click on Validate to ensure, and then click Save to apply these changes.