After registering your media, if you receive an error message stating that the viewer is unable to open the corresponding document, you need to edit your folder paths. The folder path listed in the message box is the path stored in the Concordance Desktop Image Base that points to where your files are located so the viewer can open and display the documents. You need to change the path to the directory location where your documents actually reside.
| | |
| --- | --- |
| | Use caution when resetting folder paths as there is no undo function and changes are permanent. We recommend backing up the .cib file before performing this process or other imagebase management tasks. |
To Rename Media Paths and Folders
1.Open the database you want to change the media path or folder.
2.From the File menu, click Administration, Image Base Management, and then CIB Management.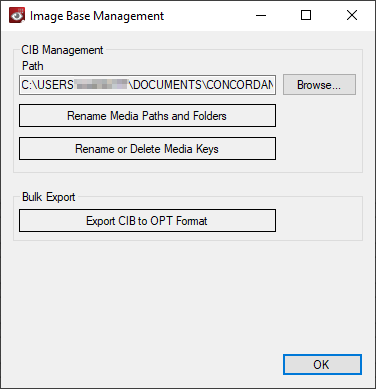 3.Click the Browse button to locate and open the .CIB file for which you need to rename paths and folder.
4.In the Image Base Management dialog box, click the Rename Media Paths and Folders button.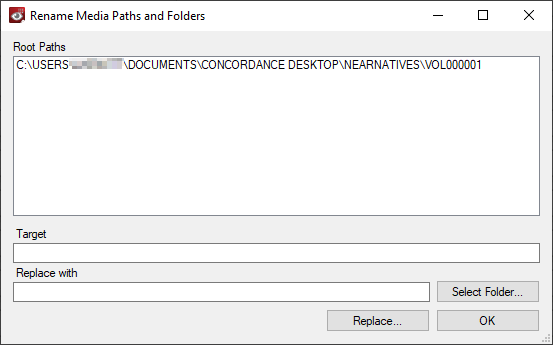 i.The current file paths are listed at the top of the Rename Media Paths and Folders dialog box.
5.To specify a Target path, do one of the following:
•From the Root Paths list, select an existing file path.
•Enter a partial path in the Target field.
6.To set the Replace with path folder, do one of the following:
•Click the Select Folder button and select a new root path folder.
•In the Replace With field, enter the new root path.
i.File paths and folder are case-sensitive. Make sure the target and replace case matches the actual locations, to ensure they are properly replaced.
7.When finished, click Replace.
8.In the New Root Paths dialog box, do one of the following:
•Click Confirm if the new path is correct.
•Click Cancel to return to the Rename Media Paths and Folders dialog box and make any necessary corrections.
| | |
| --- | --- |
| | The New Root Path dialog box displays the new path. If the path is displayed with red text, this indicates that the folder does not currently exist. It is recommended that you cancel the rename and choose an existing folder or create one prior to renaming the path. |
8.When finished click OK.