Most organizations have network directory design guidelines already in place to store information in a consistent and logical manner. We have some recommendations for you to consider while you review your own or to consider implementing for new cases:
Folder Hierarchy and Naming Conventions
The following is an example of folder naming conventions and directory hierarchy for storing documents, backup files, productions, etc. This is especially useful for Hosting as it separates billable data from non-billable data. The Uploads folder gives a staging area for quality control of data received from clients. From the Uploads folder, data can then be moved to its appropriate final resting place. Moving is helpful for billing, troubleshooting such as repairing Native File links if they are disrupted. Retaining a folder template is useful when new data arrives or when moving a database to a new directory location as this will help to keep organization consistent.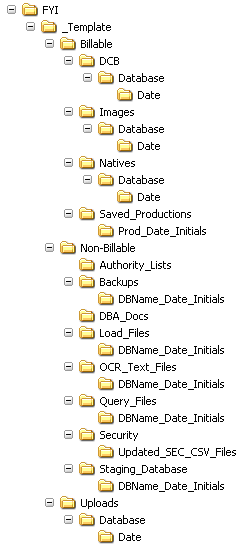 Databases for Billable Versus Non-Billable Tasks
Concordance Desktop Server ASPs hosting data for clients will have additional database design needs to construct databases to manage billable versus non-billable tasks.
Uploads for billable tasks:
•Images
•Native files
•Databases
•Productions
•Authority lists
•Backups
•Query files
•Security
Uploads for non-billable tasks:
•Staging
•Load files
•OCR files
•Database administration documents