A customize log feature has been added to Concordance Desktop that allows you to select specific data to gather and include in the logs, that can provide more detailed information for troubleshooting. In addition to the ability to log more data, this feature also provides easy access to those logs directly from the Admin Console, simplifying the act of locating the logs for troubleshooting.
In order to use the customize logs feature, you must run Concordance Desktop as Administrator (Windows Administrator).
To Include or Exclude Additional Data to be Logged
1.Run Concordance Desktop as Administrator by doing the following:
a.Right-click the Concordance Desktop icon on the desktop and select Run as administrator.
b.When the User Account Control window opens, click Yes.
c.If you are presented with a Concordance Desktop Logon box, enter the logon information for the server, then click Connect. If not, ignore this step.
2.Concordance Desktop opens to the Workspace. Log onto the Admin Console.
3.Click the Log tab.
4.Click Customize. An Extended Logging Options box opens.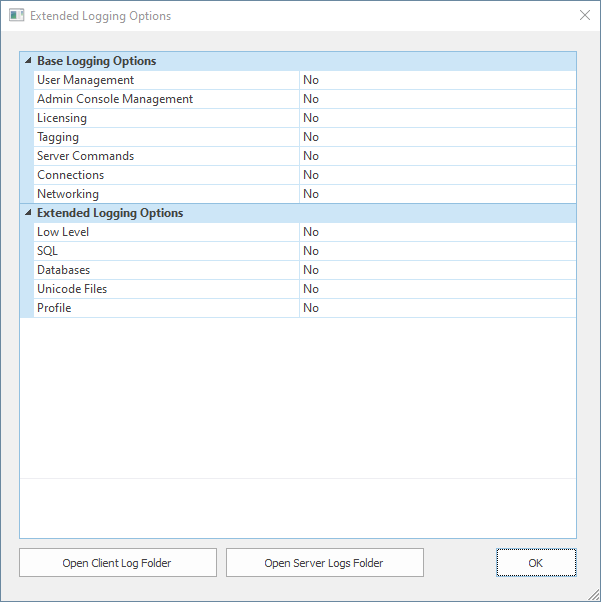 i.In this box you can select to include specific base and extended logging options. By default, all options are excluded from logging.
5.Click on an option to display its description at the bottom of the box.
i.For more detailed descriptions about logs see the Log descriptions topic.
6.To include an option, click on the down-arrow for the option and select Yes.
7.To exclude an option, click on the down-arrow for the option and select No.
8.Click OK.
9.A confirmation box opens, stating that you will need to stop and restart the Concordance Desktop and servers, click OK.
Refer to Starting and stopping a server for further details.
Sometimes you may need to access the folders where the server and client logs are located, so that you can view more detailed logged information, or to send a log file to Support for troubleshooting. While this can be accomplished using Windows Explorer, it is often difficult or cumbersome to locate and open the correct folder. To make locating and opening the folder an easy task, Concordance Desktop provides quick, easy access to the folders from the Extended Logging Options box. See Opening log files for details on how to access the folders.