| | |
| --- | --- |
| | Due to the major database structure changes, all databases need to be converted to version 10 or later. When opening a 7.x, 8.x, or 9.x database, Concordance will prompt the user to convert the database to version 10.x. If the user chooses not to convert, the database will not open in Concordance version 10.x. See Converting Databases for more information. |
| | |
| --- | --- |
| | If your Concordance administrator set up security requiring users to log in to the Concordance database you want to open, you will be prompted to enter your user name and password. The first time you log on, you will be prompted to create and confirm your password. You can change your password during login at any time. |
1.From the Menu of the Main User Interface, select File > Open. You can also click Open database in the Databases panel of the Navigation Pane.
2.A browse window displays. Navigate to and open the .dcb or .fyi database file you want.
3.A new tab displays in the Workspace Pane on the right with your database. Opening a database displays additional panels in the Navigation Pane, and additional toolbars below. The Status Bar updates to display information for the currently selected database. The Concordance title bar at the top updates to provide information about the current database.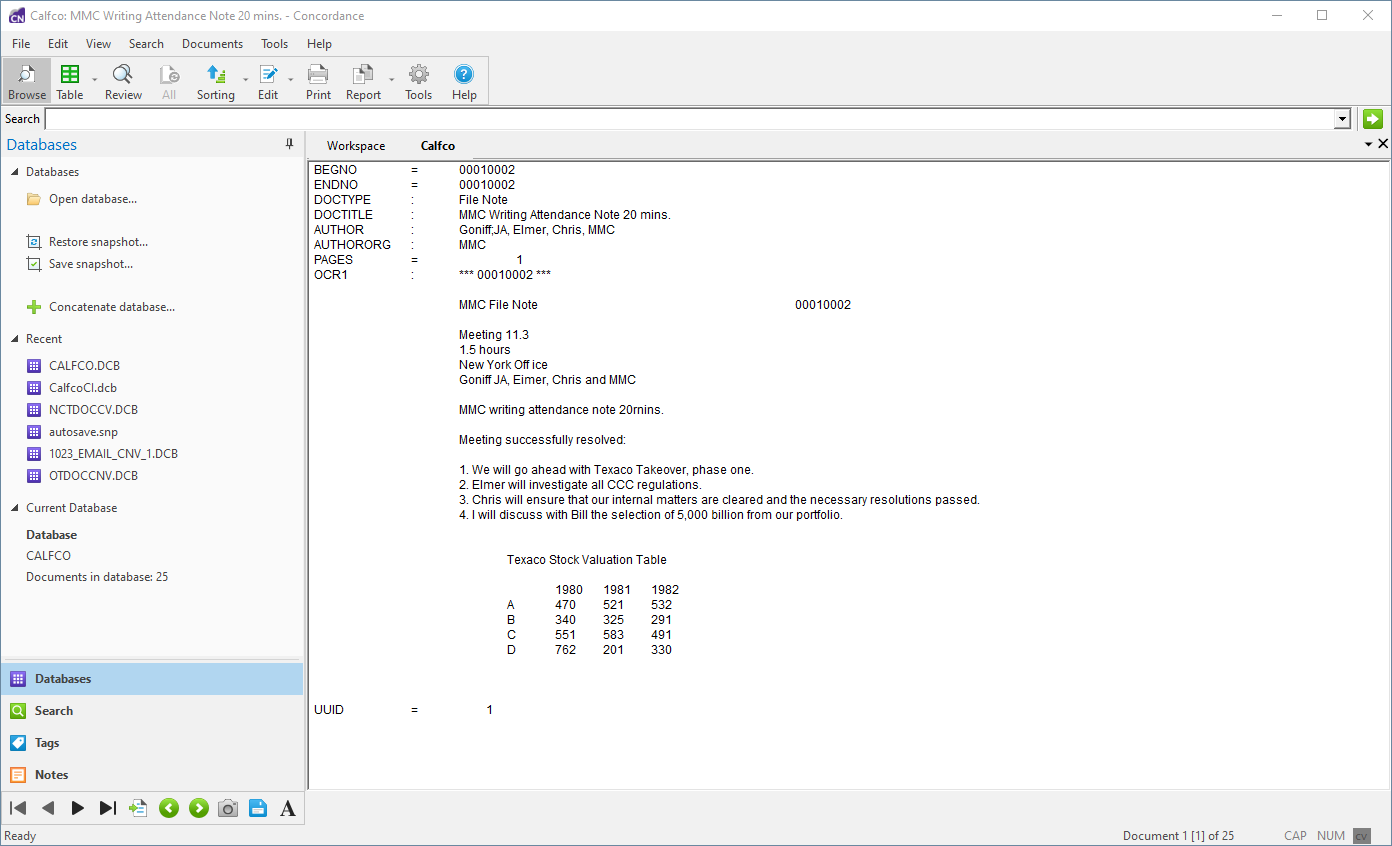 Concordance Title Bar

Concordance transcript databases automatically set the Title bar to the name, date and volume of the current document. For non-transcript databases, you can define the Concordance field you want to display by going to Tools>Preferences>Browsing and updating the Select the field to display in the title bar while browsing drop-down. The selected field displays in Browse View, Table View, and Edit View.
When reviewing standard records in the Browse, Table and Edit views, displaying a unique record number field like BEGNO on the Title bar can help you keep track of which record you are viewing in the database.