For Concordance Viewer and Concordance Native Viewer, Image Base Management tools are provided to allow you to:
•Rename/delete media paths and folders
•Rename/delete media keys (aliases)
•Load additional OPT files into an existing Concordance imagebase
•Export the imagebase database to an OPT file
•Calculate document page count
| | |
| --- | --- |
| | If Image Base Management is not available from the File>Administration menu, then you have not been given access privileges. If you need access, please contact your Concordance Administrator. |
| | |
| --- | --- |
| | As a best practice, make sure that all users are logged out of the database prior to using the Image Base Management tools. |
Please see Concordance Image for corresponding information about managing image data for Concordance Image.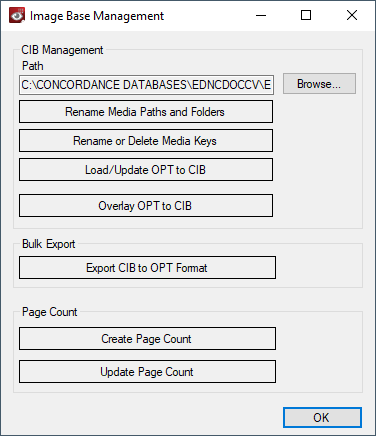 Recreating a CIB
In some circumstances you may need to delete and recreate an existing Concordance Image Base (.cib). For example, if you need to reimport all of your image information. This requires that you delete the existing .cib file prior to reimporting the image information.
| | |
| --- | --- |
| | When you delete a Concordance Image Base (.cib), all markup history is lost. In Concordance Viewer, both the markups and markup history will be lost if the CIB is deleted. It is recommended that you create a backup of your CIB file before deleting it. |