To make a backup of your Concordance Image Base you can export the database's .cib file to an .opt formatted file. The .opt file is a text file that contains the contents of the imagebase at the time of the export.
| | |
| --- | --- |
| | If you plan to export the imagebase database more than once, make sure that you delete or rename the existing .opt file(s) prior to exporting since existing files will not be overwritten. The exported .opt file does not include markup history. |
| | |
| --- | --- |
| | Exported OPT files associated with a Concordance Native Viewer imagebase do not contain page count information. Therefore, if you are loading an exported OPT file into Concordance Image, you must reset the document breaks in Concordance Image for the images to load properly. |
Export .cib to .opt
1.On the File menu, select Administration, and then click Image Base Management. The Image Base Management dialog displays.
2.Click Export CIB to OPT Format. The Export CIB to OPT Format dialog displays.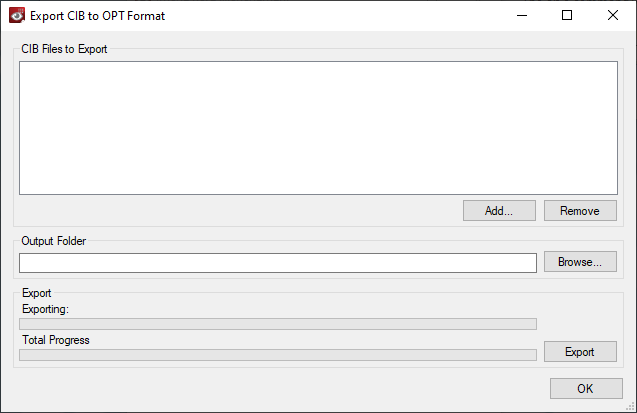 3.Click Add. Navigate to and select the .cib file you want to export. Click Open. The selected .cib file displays in the CIB Files to Export list.
4.Click Browse next to Output Folder. Locate the folder where you want the exported .opt file and click OK.
5.Click Export. The data is exported.
6.Click OK to close the Export CIB to OPT Format dialog.
7.Click OK to close the Image Base Management dialog.
You can export multiple .cib files at once by adding them to the CIB Files to Export list before selecting Export. All exported files will be written to the Output Folder.