If you need to identify which documents have a specific tag applied to them, you can easily do so by creating a query from a tag.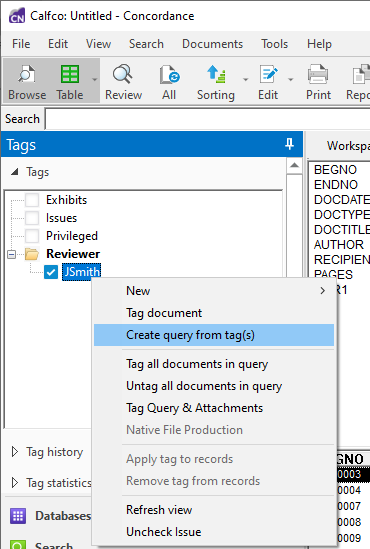 To Create a Query from Tags
1.Open the Tags task pane.
2.In the Tags task pane, select the tag you want to query. You can select multiple tags by pressing the Ctrl key while selecting multiple tags.
3.Right-click the selected tag and select Create query from tag(s). Concordance runs a query for all documents with the selected tag. You can see the results in Browse View or Table View. If you select multiple tags for the query, the results will include any documents with any selected tags (this is an OR search - tag1 OR tag2) Your search history also updates to show the tag query.
You can also execute Create query from tag(s) from a tag folder. In the example above, if you create a query from the Reviewer tag folder, the results will display for documents that are tagged with any tag inside that folder (BJones and SSmith).