The Tag history panel displays two types of information:
•Added Tags - tags that exist on the current document record, including who applied the tag and when it was applied.
•Deleted Tags - tags that previously existed on the current document record, but are now removed, including who deleted the tag and when.
As you navigate records, your tag history changes to reflect the history of each selected document.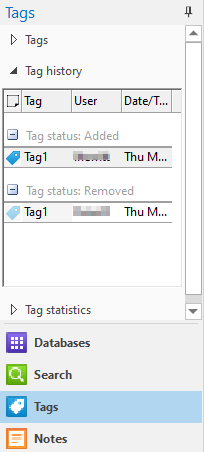 To Review Tag History
1.Select a document record that has been tagged.
2.Open the Tags task pane and select the Tag history panel.
3.Scroll to view all tags that are applied and removed from the current document.
4.Click the plus or minus sign next to the tag status to view or hide a category listing.