Concordance Desktop administrators can receive e-mail notifications when a license is about to expire, providing their user account includes their email address. Notification options can be set from the Admin Console Licenses tab. Concordance Desktop ASPs may also want to use e-mail notifications to alert clients of any upcoming license expiration.
License expiration occurs at midnight on the last date of the licensing period. If licenses do expire for users, they will not be able to access any databases until you reactivate the licenses.
| | |
| --- | --- |
| | You must have an email client installed on the server in order to send notifications. |
To Set Options for License Expiration Notifications
1.From the Admin Console, click the Licenses tab.
2.Click the Notification options button.
i.Clicking the Notification options button opens the Notification options dialog box.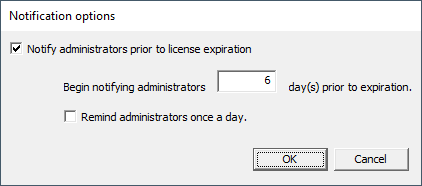 3.Select the Notify administrators prior to license expiration check box to receive an e-mail alert when a license is about to expire.
4.In the Begin notifying administrators day(s) prior to expiration field, type the number of days prior to the expiration date that a notification email will start being sent out for an expiring license.
5.To have an e-mail notification sent out every day once the notification begins, select the Remind administrators once a day check box.
6.Click OK to save your settings.
For an administrator to receive e-mail notifications, their e-mail address must be added to the E-mail field in their user account.

For more information about administrators and setting up e-mail notifications, see Adding administrator accounts to the server.