The Review View provides a complete, numerical listing of all searches conducted since you opened Concordance or it was last reindexed. The Review View can be displayed by clicking Review on the Toolbar.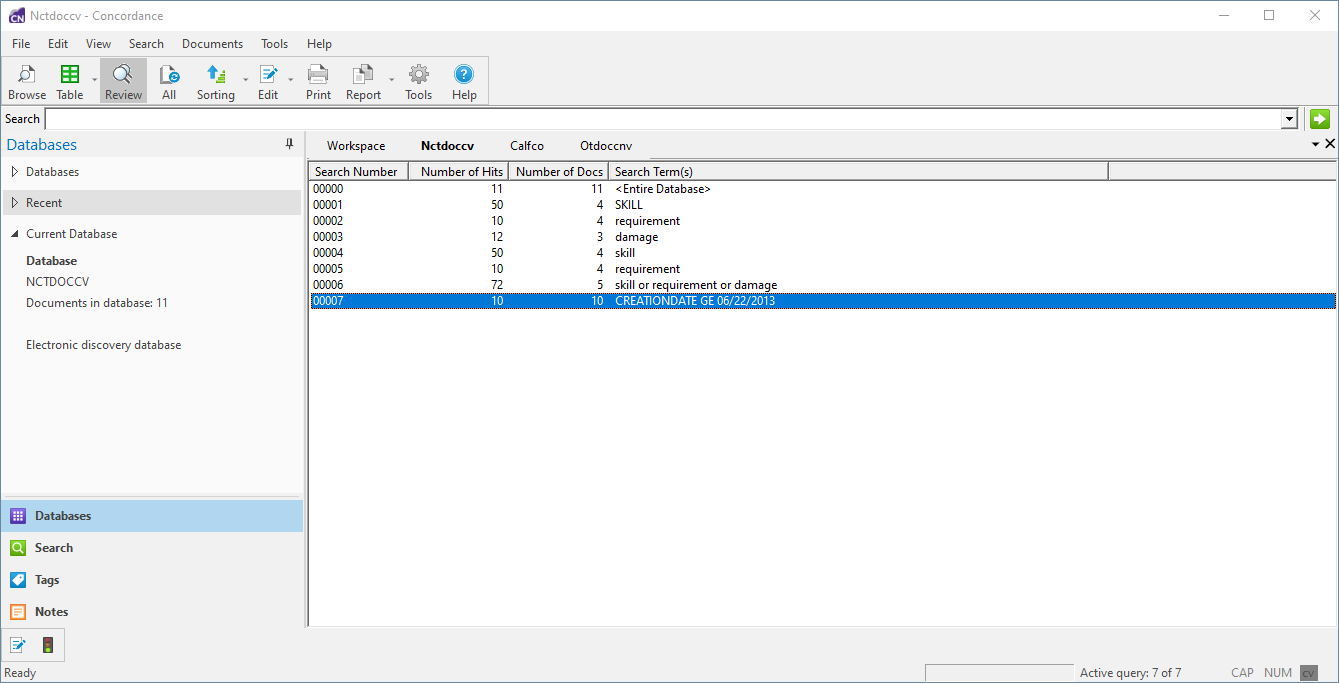 Because each search query is numbered sequentially, you can easily combine 2 or more searches together using the search number. Referencing the search number is much faster than re-typing the search. For example, type 3 OR 6 in Quick Search at the top to combine query number 3 and query number 6. The result for this example, based on the information above, would be a search for weapon OR skill OR SASCHA.
Selecting the Edit icon on the Dynamic Toolbar on the lower left will put the search terms for the currently highlighted search into the Advanced Search pane on the left so you can modify them. You can also select the Activate icon on the Dynamic Toolbar to re-run the selected search.
Zero Search
The easiest way to return all records for the entire database after running several queries is to run a Zero Search by typing a zero (0) in Quick Search.
The Zero Search is always the first search run when opening a database in Concordance.
The Activate button can be used with the Persistent Search option. If the Persistent Search option is enabled in the Search pane and then the Activate button is selected, Concordance returns all the records that contain both the terms in the query and the Persistent Search text file.
To Copy a Previous Search Query
1.In the Review view, do one of the following:
•Right-click the search query, click Copy Query, and then right-click in a search field and click Paste.
•Select the search query, and then on the Dynamic toolbar, click Edit.
•Right-click the search query, and then click Edit.
2.The query displays in the Advanced Search panel, where you can add or edit the search logic for a new query.