Administrators are not typically involved in the general printing of transcripts, but may be asked to export transcript files from Concordance into another application such as West LiveNote.
Transcripts can be exported to the West LiveNote standard Portable Case Format (.pcf) file structure or to a delimited text file. This allows you to export several transcripts to a single file, keeping annotations, quick marks, notes, and issue codes intact. Hyperlinks are also transferred, but any external files they link to are not transferred and must be copied manually.
Transcripts can also be exported to delimited text files. See Exporting Delimited Text Files.
| | |
| --- | --- |
| | When exporting concatenated databases, only the data in fields that are identically named and formatted in the concatenated set will be exported. |
Export Transcripts to a .pcf File
1.In Concordance, open the database containing the transcripts you want to export.
2.Run a search query to locate the transcripts you want to include in the export. If you want to export all the records, you can run the Zero Query.
3.On the Documents menu, select Export, and then Database transcripts. The Export Transcripts dialog displays.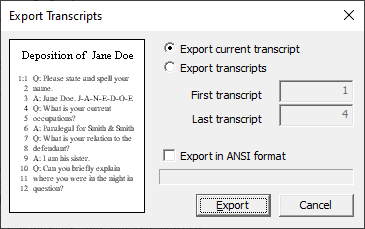 4.To export only the current transcript, select Export current transcript.
5.To export multiple transcripts, select Export transcripts, then enter the First transcript and Last transcript numbers to specify the range of transcripts from the current query to export.
6.Select Export in ANSI format to export the data in ANSI (American National Standards Institute) format. You will want to select the Export ANSI check box if you will be importing the delimited text file into an application that does not support the Unicode Standard.
| | |
| --- | --- |
| | When exporting to ANSI or ASCII format, characters that cannot be represented as a single-byte character will be lost in the export. |
7.Click Export. Navigate to where you want to save the transcript .pcf file, provide a File name, and click Save.
8.The Export Transcripts dialog automatically closes when the Export is complete.