1.From the Windows Start menu, open Concordance Image.
| | |
| --- | --- |
| | We recommend launching Concordance Image from the Start menu only when you are first registering images. During normal image record review from Concordance, simply click the View image (camera) button on the Dynamic toolbar in Concordance. |
2.In Concordance Image, on the Tools menu, click Imagebase Management.
3.Browse to and select the database .dir file you want to load, then click Open. The Imagebase Management dialog displays.
| | |
| --- | --- |
| | Make sure that you select the correct .dir file located in the same directory as your database. If not, you will be modifying the imagebase for a different database. |
4.Select the Register - Load tab.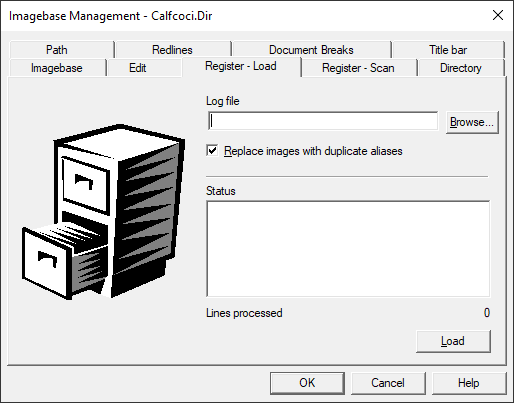 5.Click Browse. Navigate to and Open the .opt file you want to load.
6.Click the Load button.
9.In the Status field, verify that the image files transferred into the database, and then click OK.
10.In Concordance, open a record to view your image files.
| | |
| --- | --- |
| | If imagebase .dir and .vol files are accidentally deleted, you need to reload the imagebase in Concordance and relink it to its corresponding database. |
| | |
| --- | --- |
| | We recommend that you take some time to experiment with loading an image file and practice edits or repairs to it so you become adept at identifying and fixing any corruption yourself. Most technical support calls for this phase of administration are due to an incorrect file path. |
Tips and Tricks for Loading Image Files
If your image files aren't importing properly, check the following:
•Locate and replace volume paths on the Directory tab.
•Customize the path prefixes on the Path tab.
•Verify the file name and path information in the image load file.
•Edit the .vol file in List File Management dialog box to remove unwanted entries. Or, export a .log file and edit in text format.
•Use UNC paths when on a network for inconsistent drive mappings.
•Verify that all documents in the current query link to an image, and verify that every image exists. Records with missing links in the imagebase are tagged and tracked in a .log file.
•Have the image re-processed if the TIF file is corrupt or is an incompatible format.
•Rotate images using Adobe Photoshop®, Microsoft Office Document Imaging, or Irfanview.
•Confirm that the Image field in the database is a Text type field. Be sure to back up your database files before making any changes and that the field length is long enough for the data values. Run a full index after making database structure changes.
| | |
| --- | --- |
| | A common Concordance Technical Support call is due to the file path in the image load files being incorrect. Be certain to verify this information. You can search and replace the path to the correct directory where your image resides. |
| | |
| --- | --- |
| | Before loading a data volume, verify that the Bates Number for the first record to be loaded does not overlap with the last bates number used in the existing collection. If it does, you should request a correction from the source prior to loading. |